Intercoastal Payroll Solutions, true to its namesake is a PEO based in the beautiful intercoastal town of Fort Pierce, Florida. CEO, John Dial, our executive profile this month, is an industry veteran and has spent the last six years building Intercoastal Payroll Solutions.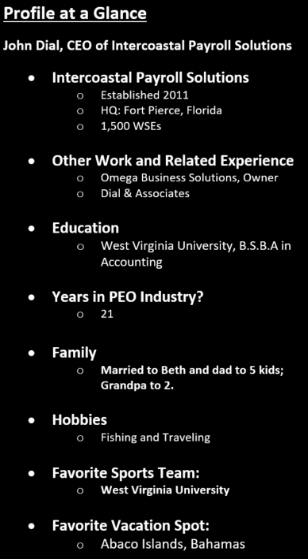 IPS prides itself as being a full service PEO with the ability to customize payroll and HR solutions that meet the individual needs of their client. John is a family man, who takes the same personal approach to his clients and employees.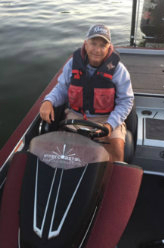 Whyman: John, thanks so much for agreeing to participate in our profile.
Dial:
I am happy to do it; I enjoy the monthly McHenry Newsletter. Plus, I am sure if I said no, I would have to deal with Dan.
Whyman: Smart man. So, John, as someone who has been in the industry for 20+ years, do you remember what first attracted you to the industry?
Dial:
I worked for my brother's accounting firm, and we processed payroll for numerous clients. We lost two clients to a PEO (called Employee Leasing back then). After doing our due diligence on the concept of Employee Leasing, we worked with a consultant for a little over a year. This process led to the decision to open a PEO named Omega Business Solutions.
We became licensed in the state of Florida for Employee Leasing during the late 1990's, and we found it difficult to obtain a worker's comp policy. After a significant learning curve, we found coverage and rolled the program out to our existing accounting clients. Back then, most employers did not know what "Employee Leasing" was… even in Florida. I believe we are providing a great service to employers, and are truly helping businesses.
Whyman: How would you describe the culture of your Intercoastal Payroll Solutions?
Dial:
Our PEO's culture is very open, and our individual office doors are very rarely closed. At IPS we trust and respect each other. We are a Team oriented business, and help each other whenever needed.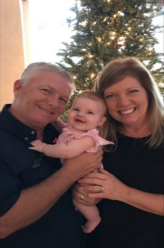 Whyman: So, do you feel like that has had an impact on your success? What is your Retention rate?
Dial:
Our retention rate is 95-96%. We have a personal relationship with our clients. Most of our clients have my cell phone number, as well as other co-workers in our organization. I have had numerous clients compliment us on our friendly and professional staff.
Whyman: Great staff in PEO is critical for sure, what do you feel is the most difficult position within your PEO to hire?
Dial:
Without a doubt, it is a salesperson. We are in the process of hiring a person for sales. The question we keep asking ourselves is: do we hire an experienced PEO sales person or a person that needs to be trained. I have asked several colleagues, and have gotten mixed answers.
Whyman: It is a very hard and vital position. So let's switch gears, PEO is stressful, how to you decompress? What is your passion outside this industry?
Dial:
Growing up in central Florida we are surrounded by lakes, and have a short drive to either coast. Fishing takes up most of my spare time. Some would say, especially my wife, that I am addicted to fishing. I fish competitively on several BASS tours. My youngest son and I travel together. We each tow a boat to the events, and fish against each other. We are rooting for each other at the same time. We have seen beautiful water as far north as upstate New York / Canada and as far south as Lake Okeechobee.
Whyman: So, growing up were you a Geek, Brainiac, Jock, or Minion?
Dial:
I grew up in a sports family, and played whatever sport was in season. I played basketball and baseball, was on the swim team, ran track and cross country, and was a 3-event tournament water skier.
Whyman: So a smart jock, I guess. If you could give any advice to new PEO entrants, what would it be?
Dial:
You cannot start a successful PEO undercapitalized. You must have the funds available to secure the best personnel. You must surround yourself with trustworthy council, because this is an ever-changing business. You cannot do it by yourself. As with any business, not all business is good business. A good workers comp underwriter is necessary, and they have to be willing to tell you no to protect your business.
Whyman: Thank you so much John, that is such great insight and McHenry wishes you the best. Oh, and your granddaughter Zoey, is adorable!
Dial:
You're welcome.