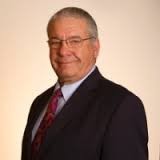 This month, I was enlightened and charmed by our CEO Profile participant, Willis Chrans of Avitus Group, a PEO and Outsourcing company based out of Aurora, Colorado, a suburb of Denver, Colorado.
Chrans is a lifelong entrepreneur who splits his time between Colorado and Florida, in order to be able to spend time with his five grandchildren. Chrans shares his story as to how he came to the Professional Employer Organization industry in an organic way; the story is simply that of a business man with a need.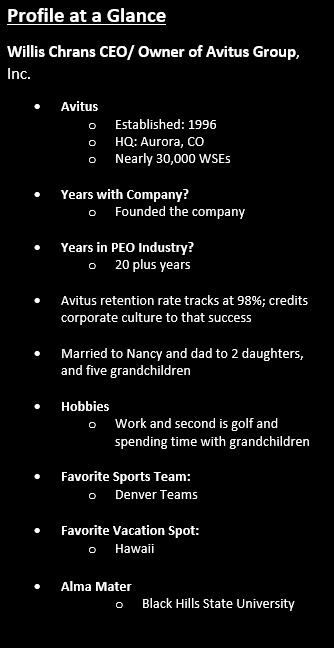 Whyman:
Mr. Chrans, thank you for spending some time with us. I am excited to learn more about Avitus Group.
Chrans:
Thank you for asking.
Whyman:
Willis, what first attracted you to the PEO industry?
Chrans:
Well, I have a story, that goes along with this question. Back in 1995, I came to the realization that I was always stressed when it came to managing my businesses. For the first time though, I started to try and figure out where the stress was coming from, and if I could alleviate it.
What I first discovered was the stress was coming from the fact that I simply don't know everything as it relates to business. The things that I didn't know, were obviously the source of some stress. I decided to do my own little case study exercise, I took AT&T as a company and looked at the various departments that comprised the company. Human Resources, Risk, Payroll, Sales, Service, Risk, and so on. I asked myself where my strengths lied, and it was in communicating to the public the value of my products and services, and delivering those products and services. My strengths were the things that I enjoyed doing. The weaknesses were things I did not enjoy doing, so I asked myself, how can I find someone else to do those things, that I trust.
So, I decided to take 4 areas from that AT&T list, and thought what if I rented time from professionals to do those things, where would I get the biggest bang for my buck to help support me in my businesses. The issue came in the time it would take to find and manage 4 companies that I trusted, and a company that could deliver this.
In 1995, I started hiring professionals in these areas to offer support to other businesses. Then in 1996, I met a gentleman that introduced me to the concept of the PEO, and I fell for the industry immediately. That gentleman, six months later was working for me.
I was so excited about this concept of the PEO, where a business could get the support in these four key areas from one company with a leader that you could trust. This idea of bundled services, I knew, from direct experience was something that all business owners needed.
Whyman:
What a fantastic story, I am sure your clients can relate to that experience. As a business owner you needed what you are now delivering to your clients. Willis, Is Avitus making any major investments or changes in the short term to your PEO?
Chrans:
As a company, today we are implementing more initiatives and sales channels then we have in the history of the company. We are making investments in many different sakes channels and future channels. This is where we are concentrating our investments.
Whyman:
So with that investment, I am sure you are predicting increased growth, how do you balance growth with maintaining personalized service?
Chrans:
That is main focus of ours. As an example, we focus heavily on technologies, and we want to be seen as a technology leader in our industry. This though is also in conjunction with our service matrix, that focuses heavily on personal touch. Each of our members, or clients, is touched throughout the year in a personal way. Avitus focuses on the balance of technology and personal touch, without ever loosing that personal touch that is vital to a strong relationship.
Whyman:
Sounds like Avitus must have a very strong corporate culture, can you tell me about that?
Chrans:
Yes, let me just say we have it, and we have a lot of it. I always describe it this way, there is a business model triangle that exists out there, the top is the leadership and the rest of the triangle is the staff. Our employees know that Avitus has a triangle that is inverted. Our employees are on top, and we, as leaders have them on our shoulders, and as leaders we have obligations.
We have an obligation to provide a quality working environment, we have an obligation to show caring, we have an obligation to show opportunity, and we have an obligation to pay fairly, on time, every time.
We have an annual conference that is open to all employees, it is the one time of the year, that all the employees are in the same room. I usually open the conference asking for a show of hands of someone who knows everyone in this room… and no one raises their hand. I then give them the opportunity to go out and meet someone you don't know, and share with them what you do. This year we tied it into a raffle drawing for a cruise. It is a good time as an employee to look around and see all the people that support what you do.
We also provide annual promotion meetings at the conference that are open to everyone. Employees can come and learn what is required to be promoted in the organization. We announce all new hires, and also announce all promotions, and will say, this is the 21st promotion from last year's conference. I have even been known to bring out an actual ladder a time or two, and then a person who has climbed that ladder. I want employees to know that this is a growing company with long term opportunities and ladders to climb.
These things build culture.
Whyman:
How impactful to have all the employees together like that, and you are right, those things like transparency and opportunity build culture and trust in an organization.
Chrans:
I also take personal accountability in building culture, one thing I do is, well, people call me Willie, and whenever we hit the 8-10 new hires, we have a Coffee with Willie, and they are invited to sit with me, and just talk about who they are, hear the story of Avitus, and that sets the stage for the culture. I meet everyone that works as part of our team personally.
I say we have not yet hired one single person, but yet 340 people work for us, we have only offered and they accepted, and then I thank them for accepting.
Whyman:
You obviously value human capital, how important is it to have the right people on the bus?
Chrans:
We would not be a company without the right people, the right skill sets. Having people in the right place, where they have the opportunity to work in their areas of their strengths. Their strengths are what they like, and that is the direction you want to be in. This also accounts for human capital retention. Having the right people, is critical and having the right people with the right attitude is even more critical.
Whyman:
So what is the most difficult position in your opinion within the PEO to hire?
Chrans:
Without a doubt, a highly skilled sales person. It is easier to replace me then to find a strong solid producer.
Whyman:
Is sales also the most important position in the PEO?
Chrans:
Well no, they are all important. I will though often say, think of the company as a bus, and the bus has an engine that makes it go forward, and if we don't have an engine in our company, a sales engine, then we as a company do not go forward. Everyone is equally important, because the people inside our bus are the ones that maintain those client relationships going forward. They are equally important.
Whyman:
Let's make a turn to a few more personal questions, like, what kind of music do you have on your phone?
Chrans:
I love music. The Eagles, Kenny Rogers, Billy Joel, the Carpenters, all the 70s music is what I enjoy.
Whyman:
What about hobbies or passions outside of being a very busy executive.
Chrans:
I really enjoy being out on a golf course, and not because of my score, but for the experience of it. My favorite golf partner is my wife. We are not out there to be professional golfers, we just enjoy each other, the environment and are happy when there is an opportunity now and then to celebrate something inside the golf game.
Whyman:
Favorite color?
Chrans:
Yellow. I am a pretty emotional person and I am always happier on a sunny day then on a cloudy day. Yellow is bright and sunny.
Whyman:
…And you live in the two sunniest places… Florida and Denver. Anything on your bucket list?
Chrans:
I would like to learn to play the piano. My perfect view of retirement has always been get up every day, exercise, play a little bit in the stock market, and exercise in the afternoon – this is my image of a perfect retirement… I guess the problem is, I like that second to growing my company. So, I am not sure I will ever retire.
I like the challenge, I like challenge so much, it might almost not be healthy. Since I stepped back in as acting CEO, we have grown the company 500% over the last 4 years, that challenge keeps me going.
Whyman:
As an industry vet now, what advice to you have for new entrants into the PEO market?
Chrans:
Be prepared with a good plan and be prepared to take risk. A CEO will risk his job, and an entrepreneur will risk it all.
I have been in the position of being ready to lose it all, with small children, my wife as a teacher. I could have thrown my hands up in the air and quit or suck it up and take the risk to move forward, and that is what I did. If you are going to own any business, especially a PEO, you have to be able to accept and gutsy up to the risk.
To grow your PEO you have to be able to accept risk and have a good plan, to tell you when it is time to take the risk.
Whyman:
Ever consider writing a book?
Chrans:
That is what my daughter always says, but we are putting something together internally with our PR Team.
Whyman:
Well, keep us posted. Thank you Mr. Chrans.
Chrans:
Thank you.
To learn more about the Avitus Group, please visit http://www.avitusgroup.com/