This month we are so pleased to introduce you to David Lawrence, the President and Founder of Delta Administrative Services. The Lawrence family has been in the employment industry since the late sixties, starting with a Recruiting company called Lawrence Personnel and quickly opened a staffing company called Delta Temporary Services, both based out of New Orleans.
Delta Administrative Services brings their rich experience to their PEO and ASO clients and maintain their staffing roots by assisting their client base with direct and temporary hires through their sister company Delta Personnel, Inc.
Lawrence is a self proclaimed Human Resource Consultant, High Tech HR Management Expert, Visionary and Entrepreneur Delta Administrative Services is a high touch company that wants to work with their clients in a very personal and strategic way to assist their growth.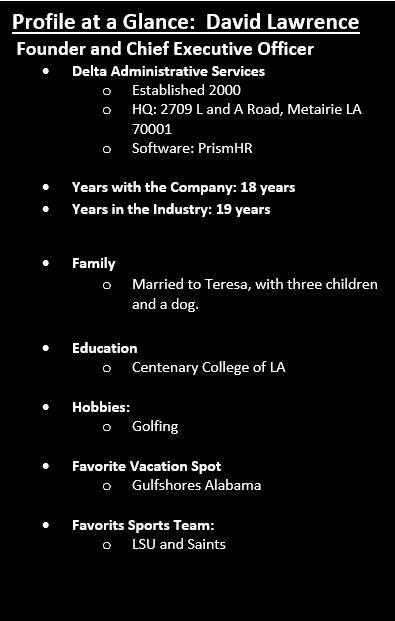 Whyman:
Thank you so much for agreeing to this interview, and might I add–quickly.
Lawrence:
You're welcome.
Whyman:
So much of your history is in employment. How has [the] PEO specifically been different than other industries?
Lawrence:
You're right. Most of my previous work history was in the staffing industry and as much as we tried to help people find work sometimes they would not show up and it became disheartening over time. The PEO industry fits my personality, because I love to help and see businesses grow. Here I have the opportunity to meet with the owners of businesses and become a consultant to help them strategically grow their respective businesses.
Whyman:
That makes so much sense. So much of PEO is a positive experience. Is that what initially attracted you to the industry?
Lawrence:
Yes. The biggest attraction to me was the ability to meet and work with business owners and help them with their business.
Whyman:
Since you have such breadth of experience in [a] PEO, can you share your perspective on the current and future state of the industry?
Lawrence:
I have been in the industry since the late 90's and started Delta in 2000. Our industry has been evolving ever since I started and every year there have been new things that have to keep us on our toes and make sure we are doing things the right way to keep our clients compliant. I see the future as extremely bright. The passing of the bill that makes us able to become certified by the IRS legitimizes the industry and now with NAPEO looking to help grow the knowledge of what is a PEO through marketing, there is no holding us back.
Whyman:
I love how fired up you are about the industry. Legislation has certainly evolved for both PEOs and our clients in the last couple of decades. What about technology? How important do you feel technology is in the current service model for PEOs?
Lawrence:
Technology is the key to our model! We need to be able to handle all the HR issues and compliance for our clients and give them access to what Fortune 500 companies offer their employees.
Whyman:
Since we are on the topic of functions of the PEO business model, how do you see healthcare and PEO continuing to evolve. Do you feel like the election has had an impact?
Lawrence:
I have a different perspective on the heathcare model being based in Louisiana. We are one of the states that currently does not allow the PEO to offer our PEO Master Health policy to each of our clients. We have to shop every healthcare policy client by client. As far as the election is concerned, I am not sure based on what Congress has been doing that it makes any difference [as to] who is in the White House.
Whyman:
That is interesting. So, lets speak a little more about Delta and your service model? How do you balance growth with providing personal, customized service to your clients?
Lawrence:
This is an interesting question because we don't sell a 'save you money type plan,' we sell a service and our model is as an HR outsourcing company. We are very hands on with our clients and this can make it more difficult to grow. However, on the other hand we very rarely lose clients, and when we do it is mostly because they are bought by a larger company.
Whyman:
I really like learning about service models such as yours. I think when I initially fell in love with PEO, was when I saw PEOs make an actual impact with their clients by engaging in their business. Do you think this model has contributed to your success?
Lawrence:
Our success as a company starts with our team of employees that work for Delta. We have worked very hard over the years to get a team that will work together through thick and thin and we have a family concept. We may fight or disagree but at the end of the day we hug and agree to work together, because we all understand it's the clients that could suffer in the long run if we are not working as a well oiled machine. Each of our staff members have personal interests in our clients success and when they grow, we grow and when they succeed, we succeed.
Whyman:
Well said. What about the challenge of sales vs. operations?
Lawrence:
We don't currently have an outside sales force. For the past 4 years, we are growing 25% a year through client referals. The key to this is to make sure everyone on your staff completely understands they are the sales force and they are responsible every day to try to get referrals from our current clients.
Whyman:
Wow, that is so impressive. Then the right people on the bus is pretty important?
Lawrence:
Over the years in this industry we have come to realize how important it is, not only having the right people on the bus,but to also have them in the correct seat on the bus. The driver sometimes needs to be changed based upon certain criteria and if that person has not been properly vetted and trained then the bus can come to a halt and everyone loses. We are in an industry where you must have strong leadership in every department inside the PEO in order for the PEO to be a success.
Whyman:
So very true, especially about sitting in the correct seat, It makes such an impact when you can get that right. So, lets turn this proverbial bus. Tell me the last book you read?
Lawrence:
Ha! This is interesting because I was listening to a NAPEO sales clinic put on by Clay Kelley and that was asked of him. He said he likes religious books and said the one he just completed was called 'Two Chairs.' I just finished it and loved it. I had my wife read it and she gave it to one of my kids and they loved it too!
Whyman:
I love when a book gets passed around like that! Okay, this is a 'Dan question,' but I am going to ask, despite my embarrassment–growing up were you a geek, brainiac, jock or a cheerleader?
Lawrence:
In high school I was considered a geek, and was in clubs like Mu Alpha Theta, (Math Honor Society), and when the coach saw how tall I was getting, [he/she]made me try out for the basketball team.So, I then became a jock for my junior and senior year of high school and mostly through college as well.
Whyman:
A smart jock! The best kind. I cant think of a better place to end this interview! Mr. Lawrence, thank you so much your time. It has been fun.
Lawrence:
You're quite welcome.
To learn more about Delta Administrative services, visit http://www.deltapeo.com/