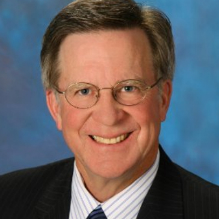 This month, I had the pleasure of getting to know Jim Annis, The CEO and Founder of the Applied Companies, based in Reno Nevada. He is one of those people that within moments of meeting him, you immediately like him. His successes in life far exceed his business accolades, which are many. Mr. Annis is smart, funny, and an interesting guy to chat with.
I left the conversation feeling like I made a new friend, but also felt motivated to follow in Mr. Annis's footsteps. A successful business man, he is proud of the relationships he has and the things he has literally built with his bare hands, but more on that later.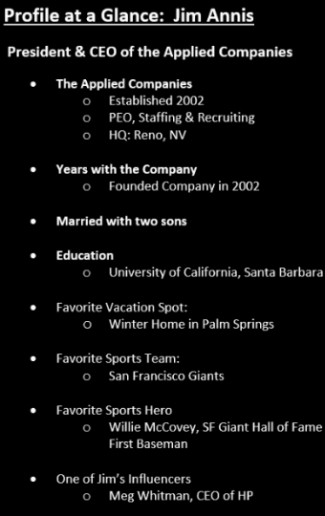 The Applied Companies, based in Reno Nevada is the largest locally owned HR company, servicing clients with a Staffing, Executive Recruitment and PEO division. The Applied Companies offer business owners a complete suite of services to meet their Human Resource needs. Applied Companies recently was awarded 2nd Best Places to Work in 2016, and this wasn't their first time.
Whyman:
Mr. Annis, thank you so much for taking some time to chat with me.
Annis:
Thank you. I am happy to do it. I enjoyed my recent meeting with Dan (McHenry) when he came out to see us.
Whyman:
I think the feeling was more than mutual, he told us all about it.
Annis:
Good.
Whyman:
Did you always work in the area of human resources? What first attracted you to PEO?
Annis:
I did not. In fact, I initially work in food servicing, then manufacturing, selling fasteners as the VP of Sales with Bonanza Nut and Bolt, and we were pretty successful in that business. I then was the owner of a Vending Machine business. At 43 though, and after working in three industries, and having made some good money, I still was not happy. So, I read the book, Do What You Are.
Whyman:
I've read that book. Was it revealing?
Annis
It was for me…it actually told me I should be a Recruiter.
Whyman:
What did you think?
Annis:
It made sense, I always loved helping people, and helping people find a great position, seemed like a perfect fit. I have always liked people, hearing their stories. I have learned so much in just listening to people's stories. My wife and I decided to take the leap. I worked for a staffing company, was successful, and then in 2002 founded The Applied Companies.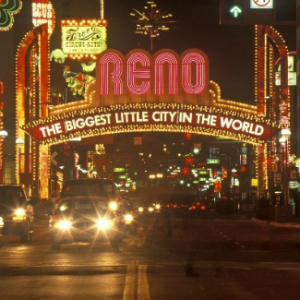 In the late 90's when people began discussing what was then known as employee leasing, it seemed like the same thing, helping small businesses.
I am very passionate about what I do in helping people, and I truly believe that is what matters. Not the money. If you do something that makes you happy, the money will follow. I believe that.
Whyman:
I 100% agree, and if you are happy in what you are doing, the money becomes not as important.
Annis:
I agree, for me, it was never about the money.
Whyman:
So, if for you, it is about the people, how important do you feel technology is in the service delivery model?
Annis:
It is important. It's important that Applied Companies stays contemporary when it comes to delivering technological solutions to our clients, but it will never be more important than the human touch, that is the most important. I go and see my clients on an annual basis, and that matters to them. Not sure I understand why a visit from me, matters, but it does.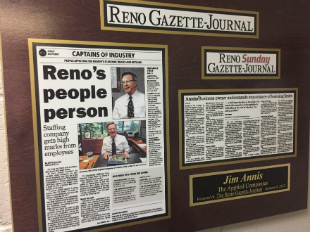 Whyman:
Because people like doing business with people they trust, and you being there, and transparent, establishes trust.
Annis:
Exactly. I really enjoy meeting with my clients and learning about what they do. It makes my job meaningful. It is genuine on my part.
Whyman:
Along those lines, and I guess in light of your Best Places to Work award, tell me about the culture at The Applied Companies.
Annis:
We have been awarded Best Places to Work multiple times, but I think if you asked employees, they would say that it really is. First as a business we try and do the right thing. Employees see that and it makes what they do every day important, and it is. We try and have fun, at monthly staff meetings, we serve lunch, we laugh, tell jokes, show you tube videos, we want people to have fun. We pay people well, people should earn a fair wage for their work, and we pay at least in the 75% percentile for all our positions. We allow employees 40 hours of paid time off to donate time to the charity of their choice. These things create the culture; culture is something you have to build.
Whyman:
Amazing, I kind of want to come work there.
Annis:
You know, we pay for this employee survey, to understand what we are doing right and what our employees need. It came back, that the number one thing that employees appreciated, was the fact that I walk around the morning with my coffee to chat with everyone. I do this genuinely, not because I am trying to get something back, I enjoy that time.
Whyman:
How important is it to have the right people on the bus? And how important is previous PEO experience?
Annis:
We take a lot of time to hire the right people, the people that are playing to their strengths. We first hire for attitude, because attitude is something you cannot teach. Previous PEO has proven to be good and bad, so we use other tools in hiring. For example, we use a tool called StrengthFinder. We are looking to build on people's strength's first and foremost and not try and improve upon their weakness.
We publish the strength's and as a company, our top three strengths of our employees are:
1. Achiever – these are people who want to do a good job.
2. Responsibility- employees who have a personal accountability
3. Relator- empathetic people
Whyman:
Wow, kind of perfect for a service based business, especially human resource based business.
Annis:
We have a great group of employees, who enjoy their work, we hire a very progressive and innovative people. We want to stay fresh and constantly invite new ideas.
Whyman:
What's the last book you read? Any takeaways?
Annis:
1776, and my takeaway is the George Washington is a stud. I still get chills thinking about it.
Whyman:
Ordering that on Amazon as we speak. Passions? Hobbies?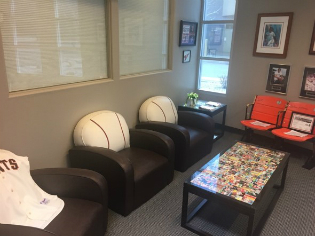 Annis:
I like to say, I am a certified (if not certifiable) custom, heirloom rocking chair maker. The inspiration is the beloved ladderback rocking chair in our home built in the 1760's passed down through our family. I wanted to create that for people and their families. I created a company called, Your Family Rocking Chair. I have a studio in the back of my house, that I can lose myself in. Eight hours in the studio, can feel like minutes. I guess that means it is more than a hobby, a passion.
Whyman:
I am seriously impressed. I just went to the website and these are absolutely beautiful. I have also heard rumors that you are columnist for the Reno Gazette Journal, a baseball aficionado, a public speaker, and pretty good golfer.
Annis:
Yes, that is also true. I am not ready to retire, but when I do, I want to ensure a good transition, and to do so, you have to have structure, meaning and identity. I can be the guy who gets up and builds, and provides meaning to families and that is my identity.
Whyman:
So, what's left on your bucket list?
Annis:
Honestly, I don't believe in bucket lists.
Whyman:
That is fair. What about parting words of advice?
Annis:
I have what I consider my five basic tenants, I can share them with you:
1. Hire Great managers. Set the course and goals, communicate with them and then get out of the way.
2. There can be more than one right answer and it's not always yours.
3. Always do the right thing.
4. Make sure to give yourself plenty of white space on your calendar. Invariably something will happen that needs your attention and you can't do that if your calendar is too full. Plus, you need time to just think.
5. Make sure you can laugh at yourself. Self-deprecating humor is a wonderful tool in working with people.
Whyman:
Mr. Annis, thank you. This has been a pleasure.
Annis:
You're very welcome.
To learn more about The Applied Companies, please visit http://www.theappliedcompanies.com.
Please also check out these amazing rocking chairs: http://www.yourfamilyrockingchair.com