The Ten Commandments is a classic film made in 1956 that included actors from Hollywood's golden age including Charlton Heston (as Moses) and Yul Brynner (as Ramses) amongst others stars of that generation.
The film was a remake of a 1923 movie of the same name and released by Paramount.
The story dramatizes the biblical story of the life of Moses, an adopted Egyptian prince who becomes the deliverer of his real brethren, the enslaved Hebrew people, and leads their exodus to Mt. Sinai (pictured above) where he receives from God the Ten Commandments.
The article today is not focused on the classic film but is merely a segue to my topic from a recent article in Entrepreneur Magazine (June 19, 2017) ("the Article") entitled "The Ten Commandments of Business" which I also chose as the title of this article.
"In religion, the Ten Commandments are a set of biblical laws related to ethics and worship which play a key role in three of the world's major faiths. In business, there are also a set of rules which help set the tone of your organization and determine if it will fail or succeed."
It is interesting that the Article also included some characteristics of an entrepreneur and the statistical probability of success in new businesses. In addition, the Article states some of the reasons that individuals choose to become entrepreneurs include more flexibility, the ability to pursue their passions, and freedom to make decisions. I would also add to the list and include seeking financial independence and the potential to build wealth for you and your family rather than someone else.
The Article also referenced some Bureau of Labor Statistics as follows: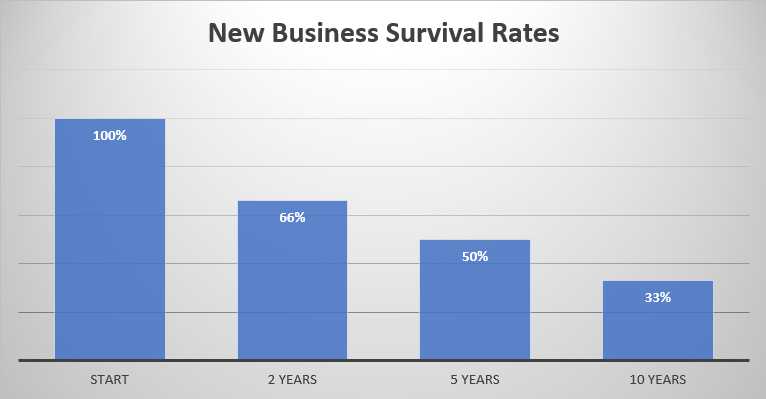 There are many different factors that impact the probability of success, but these simple commandments should be embedded in your culture and guiding principles of operating your business and ultimately determine the degree of your business success.
According to this Article, the following list was featured as the Ten Commandments of Business: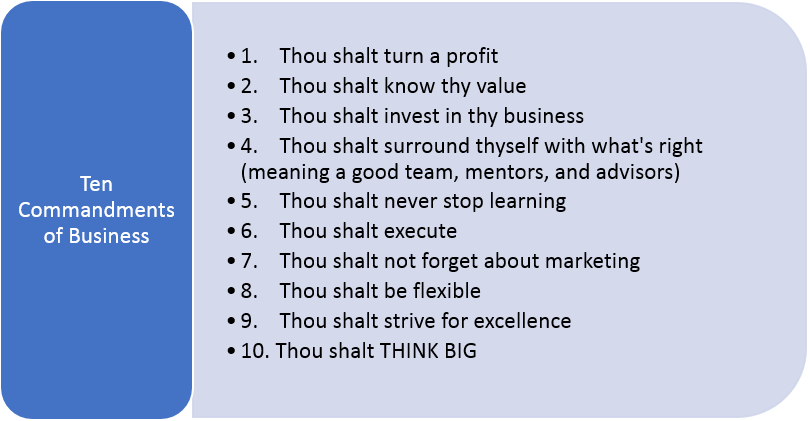 In a rapidly changing and competitive business environment, sometimes we can get lost within the forest and the trees of the day-in and day-out of trying to just deliver your services.
Ask yourselves the following questions:
Is your Company achieving its performance goals?
Is your Company growing?
Do you have time to think strategically?
Do you have time and resources for innovation?
Do you have the right tools to deliver service excellence?
Does your Company have a great culture?
Does your Company have a well thought out strategic plan that it is executing on?
Does your Company have a problem with churn in the following areas?
Clients
Sales representatives
Operational, service, and financial teams?
Are you achieving your personal goals of professional development and have a career path?
If the answer to any of these questions are negative, then perhaps it may be a good idea to re-examine your business, re-focus and integrate the guiding principles of the "Ten Commandments of Business" back into your business strategy.
Sometimes it is easy to lose focus in the fast pace and high demands of what seems like a 7 x 24 world.
If you would like to discuss any aspect of this article, please do not hesitate to contact me at dan@mchenryconsulting.net.
References
---
The 10 Commandments of Business (Entrepreneur Magazine June 19, 2017)
https://www.entrepreneur.com/article/295940
The Ten Commandments (1956 Film) – Wikipedia
https://en.wikipedia.org/wiki/The_Ten_Commandments_(1956_film)